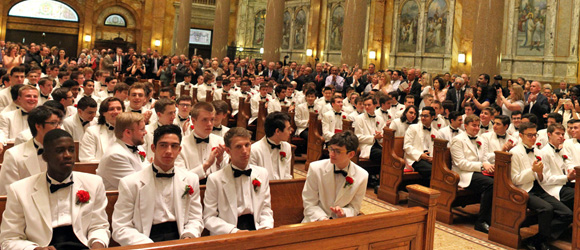 Wednesday, September 26th  |  7:00 p.m.
                                                    St. Joseph Hill Academy                                              
850 Hylan Boulevard 
| 
 Staten Island
                       .  
Dress Down 4.00/child on Wed. Oct 17  to benefit the Halloween Party
Today is the LAST DAY TO REGISTER FOR THE TACHS exam

Pumpkin Buddy Day  October 19  IPlease send in your permission slip and your money.
Check(Made out to BSS or cash)
.

Regis High School of Manhattan is holding a Staten Island Information Night on Wednesday, Sept. 26th at 7:00 pm at Saint Joseph Hill Academy- 850 Hylan Blvd.  For more info contact Eric Di Michele at (212)288-1100 ext. 2057 or edimichele@regis.org.

Fontbonne Hall Academy Open House is Oct. 11th, 6-8 at St. John's University. RSVP by Oct. 8th hein@fontbonne.org.

Moore Catholic Open House is Saturday, Oct. 13th 12:00- 3:00 pm.

Msgr. Farrell Open House is Sunday, Oct. 14th, 11:30-3pm.

Xavier High School is Saturday, Oct. 20th 11:30 am - 4:00 pm.  Address: 30th West 16th Street NY, NY 10011.

Notre Dame Academy High School, Staten Island Sunday, October 21st  1:00 pm- 4:00 pm.

Xaverian Open House is October 21st, 10am-2pm

Saint Peters Boys H.S. Open House is Sunday, October 28th, 1-4 pm.

Saint Joseph Hill Academy- October 28 11:30-2:30 


St. Joseph by the Sea Open House schedule is as follows:
Girls on October 14th  
Boys on October 21st 
**You must PREREGISTER on their website in order to attend. 


Blessed Sacrament School prefers registration via the internet.  Registration is available at www.tachsinfo.com beginning on August 20, 2018.
Please make two copies of your registration confirmation.  Send one copy to me to be kept on file in school.



**October 15 is the last day to register for the TACHS examination.***

November 2, 2018 (FRI) TACHS ADMINISTRATION for Archdiocese of New York -
* Those who submitted a registration form to take the Specialized H.S. Exam are registered. You will receive your entrance ticket from myself or Mrs. Belford when the DOE releases them on Oct. 17th.